After a long 2 year wait, ever since I heard Skumfuck, I vowed not to download any songs unless it was released by Sum 41. Screaming Bloody Murder and Blood In My Eyes were the only other songs to grace my ears. Many of you said you wouldn't download the leak when it came out, and only a few survived the torture. Those people include...
2712
TomiT14
Emil
Lars
Laxman 41
Hoocher
SumGeek
Gutter Dreams
182sins
pescidavid
dbauer
BloodInMyEyes
Peterr
olipower
and me, Sum41Ant27
We didn't cave in, didn't listen to any previews, didn't listen to the album on the Sum's website. We stuck it out to the end! And here's your reward guys, wear this sig proud! You earned it!!!! So trade in your "I won't download the leak" sig for this...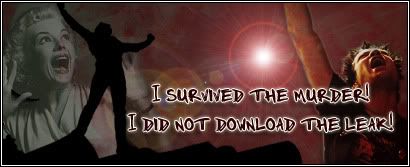 There may be others that I may have missed, just let me know. As long as you didn't download the leak and waited for your cd to come, you too survived the murder!